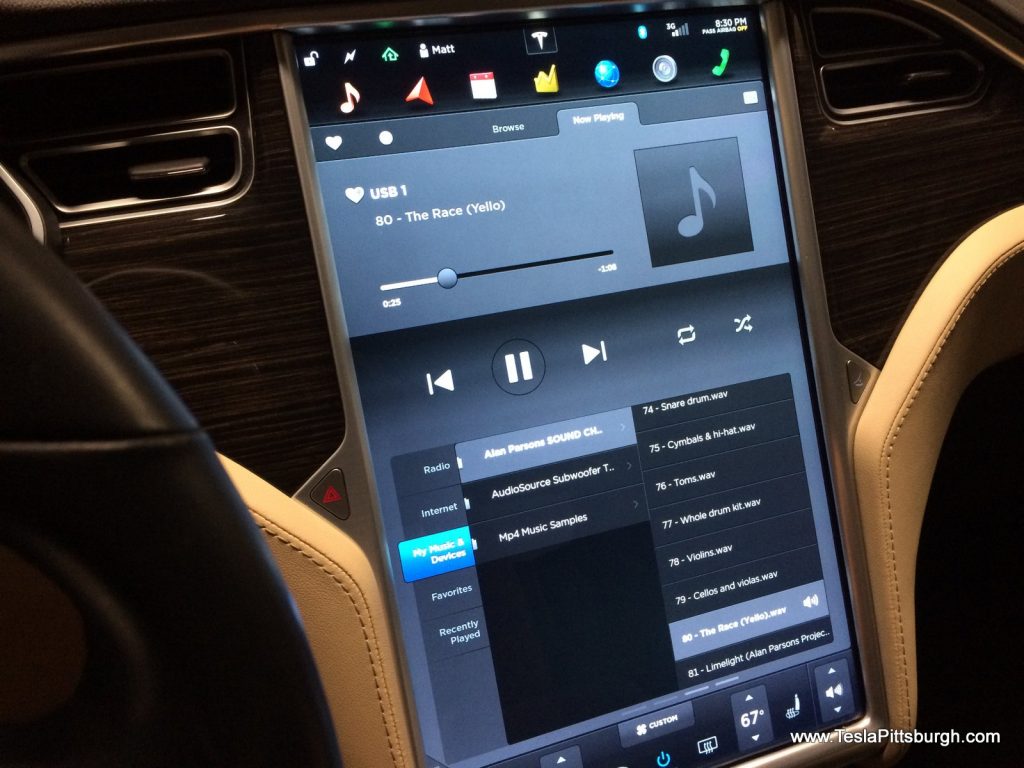 Of all the things to review, this has to be among the most complex. Not only are there reams of technical procedures to consider, there's also established testing protocols that require some level of expertise to be properly executed.
Even after that, it eventually could come down to any one person's set of ears -- a highly subjective and difficult to quantify measurement of "what sounds good." I focused more on the second set of criteria because I think the data from a lab gets lost once you add in road noise and the variable quality of source material the Model S supports.
I wanted to give you a real-world assessment tempered by other owners with varied interests and experience. That brings us to a mixed conclusion. Unlike buying other add-ons, this one requires removing functional equipment -- and trying to get "better" is a very different decision point than trying to get "some at all."
The LH speakers are the best door units by far, even better than the UHFS speakers in isolation. Second row passengers, in particular, benefit from the upgrade, as the UHFS doesn't even change out the rear door speakers. If you have standard audio and are looking for "better" -- THIS is it. The LH speakers are an absolute no-brainer. They are stunningly better in many -- if not most -- circumstances. UHFS owner Jake, who was -- literally -- in the driver's seat for most of our comparison said, "I think the upgrade holds its own against the Tesla premium audio factory option!"
But we all felt that the UHFS is still the best complete system overall until LH brings out their Part 2, if cost is no object. When/if a subwoofer is added to the LH upgraded standard sound, it's hard to imagine that even the UHFS can compete -- because it isn't really that the Tesla subwoofer is so great, but rather that it exists at all compared to the absence of one -- at all -- in the standard audio configuration. The UHFS subwoofer just dominates the cabin. "You get the vibration but not necessarily the rattle. You get the air vibrating -- it just feels good," said Joseph after a good auditory thumping from Darren's subwoofer. This despite the somewhat disparate acoustics from front to rear on the UHFS.
There's no question the mid-cabin sound is better with the LH, but somehow the sub just shakes the judgement right out of backseaters' behinds, even though the $2500 upgrade is hard to justify given how steeply LH has undercut it so far. Since you can install the LH speakers in your own garage, their value is actually even better. While the UHFS is turnkey and pretty good, my mind stays smug knowing that the LH speakers are really the better units.
My decision to forego the UHFS two years ago has been vindicated by a group of my fellow owners, squashing any concerns I had that the improvement was just a placebo effect. If you are still pondering what option to get, then seriously consider what you intend to listen to. I don't see the UHFS being worth it in any situation when such a viable upgrade path exists aftermarket. Even if LH can't bring their Part 2 to market in a timely manner or at a good price, the NVX option at $1000 remains open -- and you're still $500 under the factory UHFS with better sounding results and better quality gear.
That doesn't mean everyone should ignore the UHFS as an option. If you want a turnkey system, it's hard to argue with the factory upgrade. Especially if money is not an object or owners who are unsatisfied with their UHFS should look into the upgrade specific to their system that Light Harmonic developed before doing their standard sound upgrade. They're using many of the same pieces and adding a strong armory of custom gear to take that system up to the next tier.
Since the UHFS already includes a subwoofer, a more apples-to-apples price of the upgraded LH standard speakers in that scenario would be $2500 for UHFS with the $1800 for the LH upgrade to the UHFS -- plus the costs of their recommended professional installation. You're into your audio for a lot of coin at that point, but this would also be the very best of all possible configurations. At that price and coming full circle, the standard audio with just the Part 1 LH upgraded speakers becomes an audaciously good deal at just $1000.
Please note: We are not specifically authorized, sponsored by, or otherwise directly associated with Tesla Motors and make no claims to be so.